It was an incredibly busy week for me this week. I worked only Monday through Thursday, but on Tuesday, Wednesday and Thursday I left the house at 7:45 am and didn't get home until 8:15 pm. I was exhausted, to say the least. Friday morning I had court for a speeding ticket that I got back in October. Thankfully, no points but unfortunately, $130 fine. Shucks.
This weekend was a lazy one for me. I was so exhausted from being so busy and running from place to place and thing to thing all week that I basically did nothing. On Saturday, we had absolutely nothing to do, and thanks to my wonderful husband, the house was completely clean so I didn't need to catch up on laundry or on housework! We trekked to Target and bought some dog food and a big box of fruit snacks that was only $5! (There were 50 pouches!) I eye'd some faux silk drapes that I wanted for the formal dining room, but in the end decided against them.
Today we woke up and headed to church. Loved every minute of Pastor Jim's sermon and the music was great too (nice job Jeff!). After church we were thinking of going to see a movie at the theater but then I decided I would rather spend money on drapes to finally cover that doorwall (it's only been naked since we moved in 8 months ago!) so we went shopping again. Jack really liked these brown ones with embroidered flowers on them and I was really leaning towards the faux silk that had the insulated lining in them too. But really for the faux silk, the color was what was drawing me to them. Both of the different colors are a deep vibrant color.
Jack hung them and I really didn't like how much light they let in, you can barely see the color of the drapes and that was the whole idea behind putting them up. Our formal dining room only has the off-white color on the walls and doesn't have any other color in there besides one stitchery that my mom made and I inherited.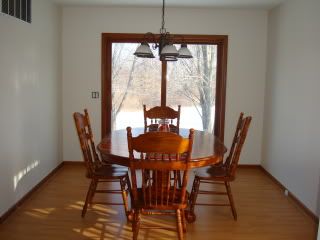 Formal Dining Room before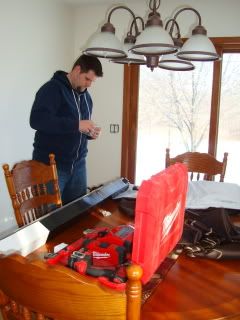 Jack working on it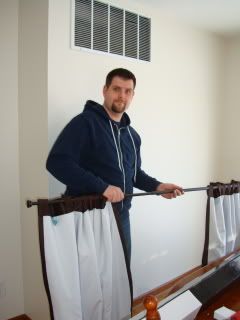 Happy Husband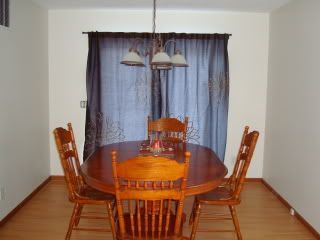 After.
This is where I decided that the curtains let way too much light in and they weren't what I was looking for. I was looking for a stark color to brighten up the room, and this just wasn't the look I was going for. It was much too airy.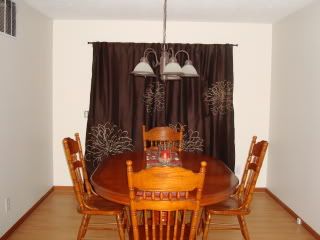 This is after dark. This is more the look I was thinking about, but I don't know how the curtains match each other with that pattern on it, with both of the panels the same. This is when I decided for sure that those two curtains are going back and I am going to try the deep red or the deep blue. We will see!
What do you think?