Bessie and I finished in 48 minutes. I'm pretty happy with that considering the amount of incredibly steep hills and uneven terrain plus the fact that I haven't ran or worked out in any capacity for months!
This is the muddy terrain we jogged through.
Look at that beautiful brook!
One of the old houses you can see off Joel Rd.
Bessie post run.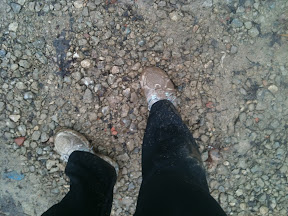 My feet and pants leg where Bessie was at my side kicking up mud!
Bessie and I in all of our exhausted muddy glory.