I'm 25 years old... My birthday was yesterday! It's hard to believe...
Jack and I woke up early and went shopping at Target. They had a lot of great deals on bulk food and we also got me a few shirts from the clearance rack.
After Target we went to a coney for breakfast. I got biscuits and gravy and scrambled eggs and coffee. Jack got a meat lovers omelette with hashbrowns.
Then we went home and picked up the dogs and went to the dog park for a few hours. We were surprised how many people were there! I would guess there was between 75-100 dogs. It was a little cold but the dogs had a blast.
We left the dog park and headed to Jack's parents house. They had some mail for us at their house we have been needing to pick up. We visited for a little while and had a good little visit. Jack's mom gave me a bunch of quilting magazines that her cousin sent her.
Then we headed home, the dogs were exhausted and we were exhausted. We got home and watched While You Were Sleeping, a cute Sandra Bullock romantic comedy. My mom came over and made chicken fajitas and brought me a homemade cheesecake for my birthday cake.
When my mom left, my little brother had stopped by and Jack helped him unload his truck. Then my girlfriend Jocelyn (the girl who owns and runs the nursing home where I work) says they got a new puppy and asks if I want to come meet her.
We throw on our coats and run out the door to go hold the most adorable little white fluff ball. The last I heard, they are thinking about naming her Mona.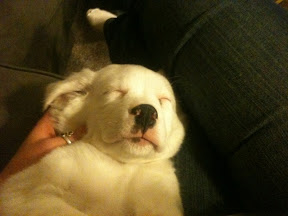 She is so cute! I'm so glad that every day at work I can get my cuddly puppy fill, but then I don't have to go through the stress and fun of puppy training again. LoL!
Now today, I'm getting my hair done at 9am and then bringing Bessie over to Jocelyn's to meet the girls. And then I'll head over to Home Depot and pick up a gallon of paint for the other bedroom. I might just get that completely painted today! I do need to spackle it today too. I am very excited that Jack and I finally picked a color for that too.
That was a hard decision.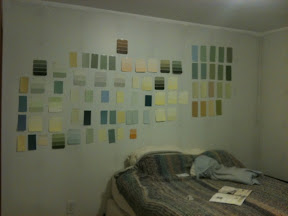 Indecision at its finest. I'll post a picture later on today or tomorrow as a before and after reveal!