On Monday, at 12:30pm, I dropped off our application packet to the post office to mail it to Bethany Christian Services. On Tuesday around 2:00pm, I received an email from BCS stating that our application had been received and processed and here are a few more things that we need from you. On Wednesday, my best friend called me and said, hey I just checked my mail and I have a letter here from BCS asking me to fill out a questionare from you putting me as your reference!
Wow! Look at how fast all of this is happening.
On Tuesday, after I got home from work, I spent 4pm to after 9pm working on filling out this questionare. It was so in depth and yet so vague at the same time. It required a lot of thought.
It's amazing how all of this is coming together. It's amazing to think about having children running around the house. Or in the back yard, or playing with the dogs. How happy we will make Bessie to give her little ones to play with her!
What an odd feeling to be excited for whatever age might come! Expectant parents are always daydreaming about what things will be like when their babies grow up and they get to the fun ages where you can play with them and get to know them and interact with them and know them as people, where we are able to sit here and think how fun it will be to teach a 6 year old how to bake a cake and watch a 9 year old toss a ball for Bessie and play with Bessie for hours. Or thinking about how cute it will be to see a 2 year old cuddling up to Dixie and her monstrosity! We have so many things to look forward to and be excited about.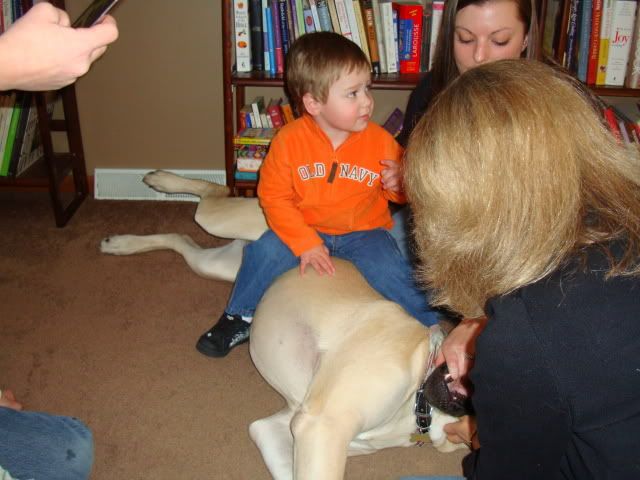 Little Aren is 2 years old riding on Dixie. It's crazy for me to see that picture, it was taken on Christmas day! Dixie is so much bigger now!